&nbsp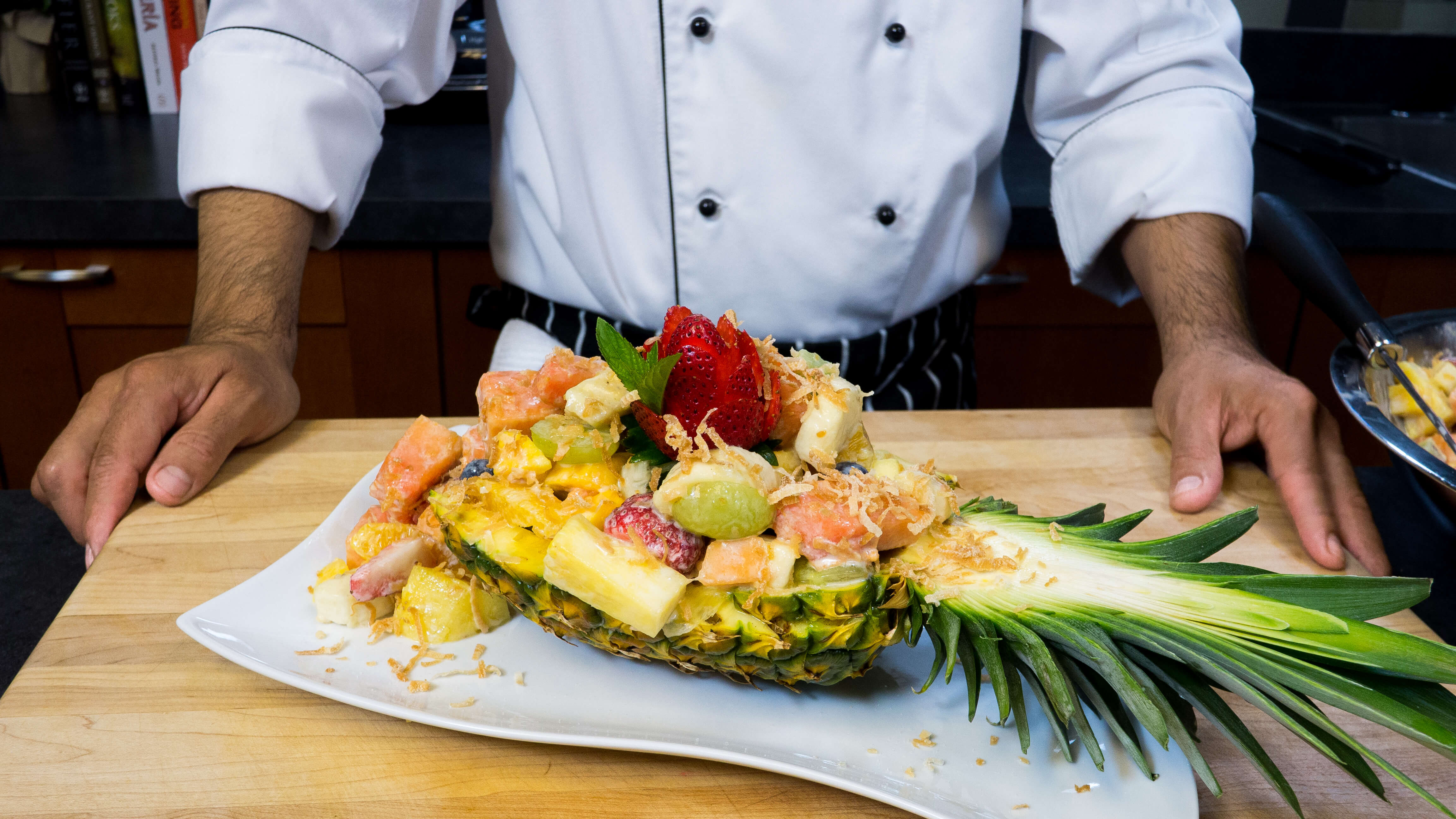 How To Make Hawaiian Fruit Salad
Sometimes you have to indulge a little and this creamy fruit salad is the perfect way to do it! By combining loads of fresh fruit like pineapple. papaya, mango and kiwi and then adding in some delicious toasted coconut and dressing it all up with a Greek yogurt and coconut based dressing that's slightly sweetened with a bit of honey, this salad is the perfect balance of healthy and sweet tooth satisfier. Make it for lunches, picnics, camping trips and summer day outings for a dish that adults can feel good about and kids can enjoy!
This Hawaiian fruit salad is perfectly creamy and sweet so follow along with our online culinary school chef to learn how to make it! Believe us when we say that this recipe literally tastes like summer!
Hawaiian Fruit Salad
Salad Ingredients
2 cups fresh pineapple, cut into chunks
2 cups papaya, cut into chunks
2 cups fresh strawberries cut in half
2 kiwi fruits peel and sliced
2 cups green grapes, halved
2 mangoes, peeled and cubed
2 oranges peel and cut into segments
2 bananas peeled, sliced
2 cups blueberries
½ cup toasted coconut flakes, divided
Dressing Ingredients
1 cup plain Greek style yogurt
1 cup sour cream
½ cup pineapple juice
½ cup coconut cream
½ tsp vanilla extract
3 tbsp of honey
Preparation
1. Combine all the cut up fruits in a mixing bowl, add half of the toasted coconut flakes.
2. In a food processor combine the plain yogurt, sour cream, pineapple juice, coconut cream, sugar and vanilla extract.
3. Combine the dressing with the cut up fruit, refrigerated for 1 hour before serving. Before serving, topped salad with the remaining coconut flakes.