&nbsp
6 Types of Culinary & Pastry Careers in the Food Service Industry
When it comes to culinary and pastry careers the first thing most people think of is a chef. While you may need more formal training from a culinary school with regards to fundamental skills, there are often overlooked abilities that one also needs such as business management, menu/product costing, professional communications, and personnel management.
Sure, formal culinary and pastry training can help prepare you to achieve your dreams of becoming an executive or pastry chef. But let's explore some other options that those with a penchant for cooking and baking can pursue. These are just some of the types of culinary and pastry careers that are available throughout the food service industry.
Business Owner/Entrepreneur
Aside from owning your own restaurant or bakery there are other great options for the food-savvy entrepreneur.
Bed & Breakfast: Aside from the love of creating sublime breakfasts and tea sweets, B&B owners need to have a passion for meeting and serving people.
Food Entrepreneur: Food Entrepreneur is a relatively new term. In the growing internet market many food-minded professionals have carved out specialty food niches for themselves. Maybe you have the next best salsa or BBQ sauce recipe to bring to market, or you have a drive for opening an online bakery.
Food Truck: Many entrepreneurs opt for a food truck because purchasing a restaurant location is very expensive, while food trucks are much more affordable.
Food Forager
Are you a cutting edge type of person? If so, then maybe becoming a food forager is for you! A food forager is a person who goes into the forest and other natural settings to find foods that are grown in the wild. However, a new career field is emerging for professional food foragers who search through farmers' markets and other local businesses in order to source food for restaurants. Chefs do not typically have the time to source ingredients like locally grown produce or artisanal products. At times, they hire professional food foragers to do it for them. Foragers source the ingredients and sometimes even educate chefs and restaurant staff as to the origin of the items.
Food Scientist
A food scientist is typically involved in researching, developing, and improving food products and manufacturing processes. Most scientists tend to specialize in a specific area such as processing, quality assurance, or research. Perfect for the culinary or pastry fan that is also a lover of science, or previously science educated. While this type of position typically requires a related degree, it could take your culinary skills to the next level. You could determine the nutritional content of products, research new ingredients, or enforce government food regulations.
Food Batchmaker
While this is one of many different entry-level positions found in food-manufacturing facilities, it's a great opportunity for culinary and pastry enthusiasts. Food batchmakers follow recipes in order to cook large batches of food. You could be responsible for measuring ingredients, monitoring and operating a variety of equipment, adjusting cooking temperatures, conducting quality-control tests, and cleaning and sterilizing equipment.
Recipe Developer
As the name suggests, a recipe developer responsible for creating new recipes – often alongside a chef – for restaurants, special events, and cookbooks. You might find yourself working at a restaurant, in a large commercial kitchen, or in your own, specially designed space. You might develop recipes and share them online as a food blogger.  You could even get paid to develop recipes for other blogs.
Culinary & Pastry Career Survey
Culinary & Pastry Career Survey
What's your ideal culinary career? Answer 20 simple questions and see if your dream career gets revealed to you.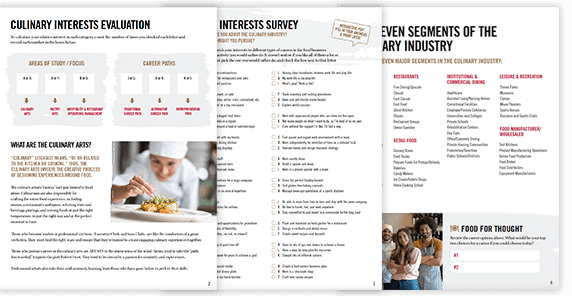 We've compiled of all of the essential questions into one handy guide: Career options, description of skill requirements, and more!
YES, I want the guide!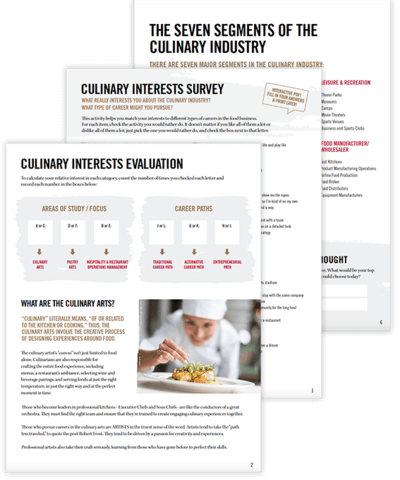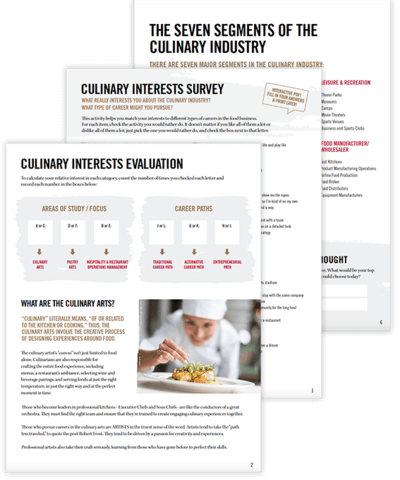 Kitchen Staff
If your passion for food takes you into a professional kitchen or bakery but you don't want the demands of a chef or owner, there are a number of kitchen staff positions that will keep you busy and near the food you love.
Culinary
Fry Cook
Sauce Chef
Roast Chef
Grill Cook
Short Order Cook
Kitchen Prep
Pastry
Bread Baker
Cake Decorator
Bakery Assistant
Kitchen Prep
It's notable that not everyone who loves to cook or bake needs to aspire or even become an executive or pastry chef. There are many important supporting roles that can involve your love of cooking and baking without formal training. Even if you have very specific goals such as baking quintessential quick breads or learning how to feed a crowd for a party or holiday, you can easily take individual online cooking classes to hone these and other culinary and pastry skills.