&nbsp
Preparar Ostras Rockefeller
Según cuenta la historia, las ostras Rockefeller fueron creadas en el restaurante de Antoine en 1899 de Nueva Orleans. El plato era tan rico, que lo nombraron después del hombre más rico de América en el momento, el famoso John D. Rockefeller. La receta de las ostras Rockefeller originales, creado por Jules Antoine, se dice que se ha ido con él a la tumba por lo que la que conocemos hoy en día no es más que una suposición de lo que era. Incluso se rumorea que para lograr ese color verde legendario que Jules Antoine añadió un toque de absenta, una bebida muy popular en el momento. Lo que sí sabemos es que no estamos quejando con la versión que tenemos hoy. Las ostras Rockefeller toma nuestro molusco favorito y completamente lo eleva con delicioso sabor. La mayoría de las recetas de este plato incluyen la espinaca, como éste, aunque se dice por los chefs de Antoine que la versión original no contenía espinacas y más bien una mezcla de verduras como hojas de la zanahoria y el apio. Los verdes se mezclan con ajo salteado, una reducción de licor de anís, pan rallado y el queso parmesano y luego poner en la parte superior de las ostras y hornean hasta que esté caliente crujiente, sabrosura de queso. Hable acerca de lujo!
Mira junto con este video que presenta uno de nuestros chefs de la escuela culinaria en línea para aprender a hacer tu propia ostras Rockefeller en casa. Lo único que tendrá que preocuparse con esta receta es el excederse!
Culinary & Pastry Career Survey
Culinary & Pastry Career Survey
What's your ideal culinary career? Answer 20 simple questions and see if your dream career gets revealed to you.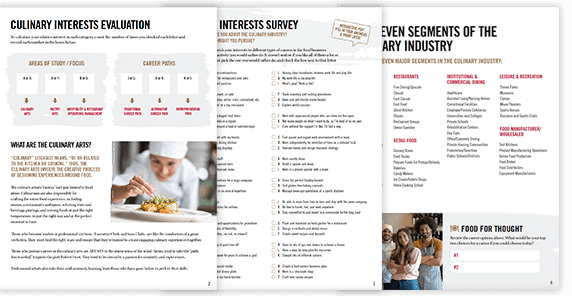 We've compiled of all of the essential questions into one handy guide: Career options, description of skill requirements, and more!
YES, I want the guide!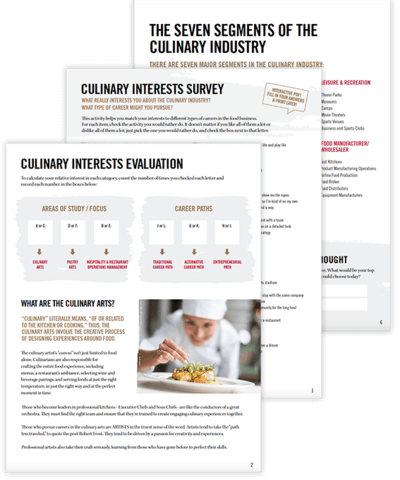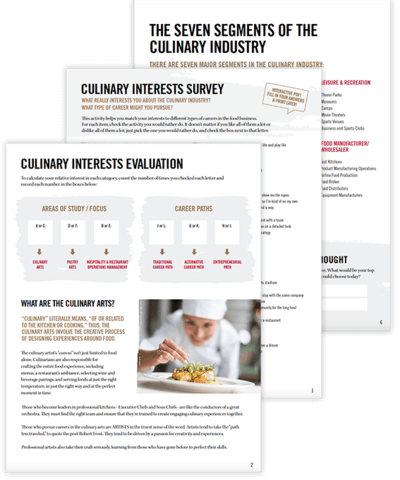 Ostiones Rockefeller
Ingredients
4 oz unsalted butter
2 garlic cloves minced
1 oz bread crumbs, Panko
2 shallots, chopped
1 fl oz Pernod (or any anise flavor liquor)
2 cups chopped fresh spinach
2 tbsp olive oil
¼ cup grated Parmesan
1 tbsp chopped parsley
18 each oysters, on half shell
Salt and pepper
Rock salt
Procedure
1. Melt butter in skillet. Sautée the garlic for 1 minute. Place bread crumbs in mixing bowl and add half the garlic butter. To the remaining butter in the skillet, add shallots and spinach and cook for 2 minutes until the spinach wilts. De-glaze the pan with Pernod. Season with salt and pepper. Allow the mixture to cool down.
2. Finish the bread crumbs by adding the olive oil, Parmesan cheese and parsley, then season with salt and pepper. Spoon spinach mixture on each oyster then top with the bread crumb mixture.
3. Sprinkle a baking pan with rock salt; arrange the oysters in the salt to steady them. Bake in a preheated oven at 450F for 10 minutes or until golden brown. Serve oysters with lemon wedges.