&nbsp
How To Make Watermelon and Feta Salad
We're completely in love and totally on board with the savory watermelon trend. Anyway we can incorporate more watermelon into our diets, we're in! Like this watermelon and feta salad that balances the sweet and savory flavors like a champ. By cutting the watermelon into small, tomato-like cubes and then topping it with a lemon yogurt dressing, some more chopped summer veggies, mint and feta, this salad is a total knockout. Just be sure to make enough of this one because it can disappear faster than a snowman on a hot, summer day.
This bright, healthy and gourmet-looking salad is the perfect side for your summer gatherings–maybe even an upcoming tailgate!
Watermelon & Feta Salad
Ingredients
6 cups diced seeded watermelon
1 large bell pepper, seeded and cut into cubes
1 seedless cucumber, cut into cubes
1 cup thinly sliced radishes
½ cup thinly sliced red onion
3 tbsp olive oil, divided
14 oz feta cheese, cut into small cubes
2 green onions, divided
¼ cup thinly sliced fresh mint leaves, divided
1 cup plain Greek-style yogurt
1 tbsp lemon juice
¼ cup toasted sliced almonds
Preparation
1. Mix the first five ingredients and 2 tablespoons oil in a large bowl. Add half the cheese, green onions and mint.
2. Mix remaining cheese, green onions, mint, lemon juice, and oil in food processor; add yogurt. Process just to blend. Season dressing with salt and pepper; mix into salad. Top salad with toasted almonds and serve!
Pastry Arts and Culinary Arts School
Planner & Checklist
Pastry Arts and Culinary Arts School Planner & Checklist
Thinking about baking & pastry arts school or culinary school?
Get the planner!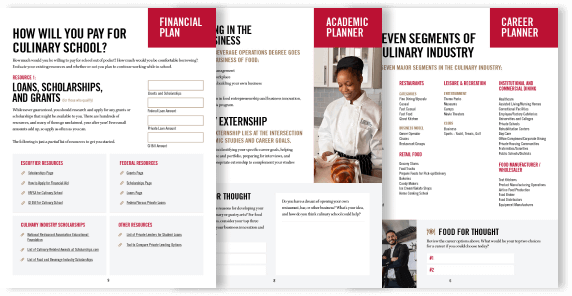 We've compiled a checklist of all of the essential questions into one handy workbook: Career options, academic plans, financing your education, and more.
YES, I want the workbook!