&nbsp
How To Make Veal Oscar
Talk about a luxurious dish. Veal Oscar is about as indulgent as you can get when it comes to a classic French dish. Tender veal cutlets, crab meat, blanched asparagus are smothered in a rich bernaise sauce for a meal like you've never had before. Veal Oscar is the definition of fine cuisine.
Learn how to make it with our online culinary school chef in this instructional video. He'll walk you through each step so making this challenging dish is a cinch!
Béarnaise Sauce Ingredients
3 large egg yolks
3 tbsp Champagne or white vinegar
1 tbsp white wine
1 tbsp finely chopped shallots
1 tbsp finely chopped fresh tarragon
1 stick of butter melted
1 tsp lemon juice
2 tbsp water
Salt and pepper to taste
Directions
1. Melt stick of butter in a small saucepan over medium heat keep warm to about 125° F. In a small sauce pan combine half the vinegar, white wine, shallots, and tarragon over medium heat and reduce until most of the liquid has evaporated, about 5 minutes. Set aside.
2. In a sauce pan add about ½ gallon of water and bring to a simmer over medium heat. Place egg yolks in a metal bowl and add 2 tbsp of water and 1 tbsp vinegar. Cook quickly over a double boiler until yolks are lighter in color and a ribbon consistency. Remove from heat.
3. Slowly add the calcified butter to the yolks, whisking constantly. Add a few drops of water if the sauce becomes too thick. Add the tarragon reduction, season with salt and pepper to taste. Hold the sauce hot at 125° F for a maximum of 1.5 hours.
Culinary & Pastry Career Survey
Culinary & Pastry Career Survey
What's your ideal culinary career? Answer 20 simple questions and see if your dream career gets revealed to you.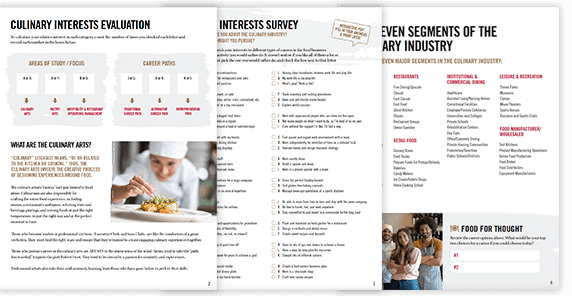 We've compiled of all of the essential questions into one handy guide: Career options, description of skill requirements, and more!
YES, I want the guide!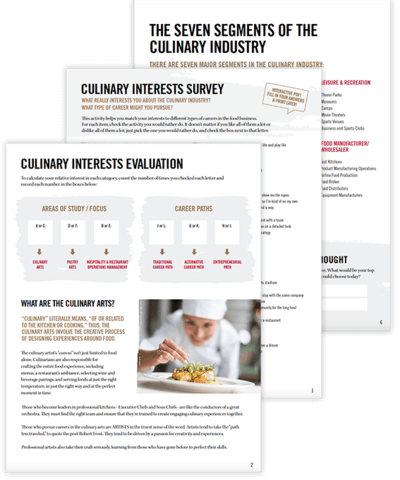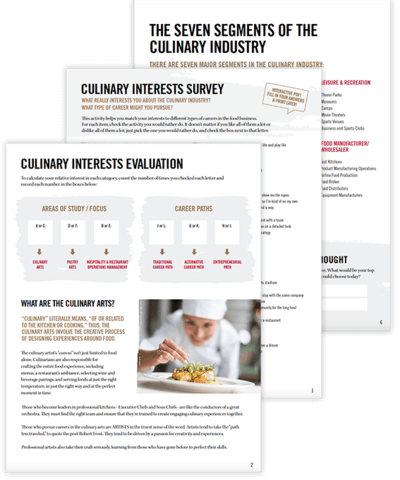 Veal Oscar Ingredients
1 lb veal cutlets pound
¼ cup all-purpose flour
½ lb lump crabmeat
2 tbsp whole butter
½ tbsp vegetable oil
12 fresh asparagus spears
Salt and pepper to taste
Veal Oscar Directions
1. Season veal cutlets with salt and pepper dredge in flour and shake excess flour, in a large skillet add 1 tbsp. each butter and oil; heat over medium heat until butter melts. Add veal pieces; cook until lightly browned, about 2 minutes per side. Remove the meat from the pan and set aside. Cook asparagus spears in salted boiling water until tender, about 5 minutes.
2. Melt the remaining butter in the same pan over medium heat, add crab to warm up.
3. To serve, arrange veal, crab and asparagus on warm serving plates; top with béarnaise sauce.