&nbsp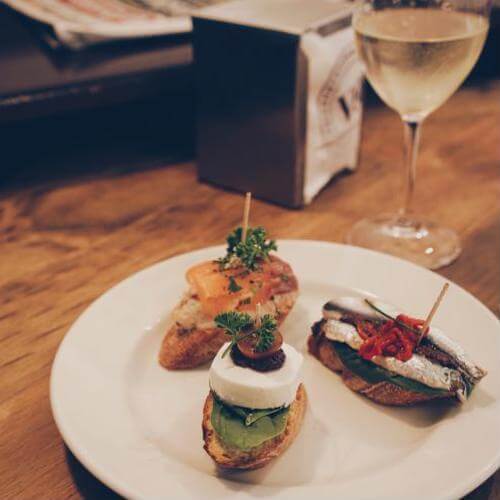 Think small by throwing a tapas party
One of the most rewarding parts of taking culinary courses online is demonstrating all you've learned by crafting great food for friends and family. A formal dinner party is one possibility, but a gathering centered around tapas presents even more opportunities to explore a variety of ingredients and techniques. With some advance planning, you'll be able to prepare a wide range of crowd-pleasing small plates.
Tapas originated as the array of snacks served in bars between the end of work hours and a late dinner. Once you've mastered some classic items, you can find countless ways to put your own stamp on this tradition of Spanish cuisine. Try a few of these recipes and you'll be well on your way to hosting a delightful gathering:
Start with a taste of Northern Spain
"Begin the evening by paying tribute to the roots of tapas."
Begin the evening by paying tribute to the roots of tapas with a dish that features the smoky, sweet flavor of piquillo red peppers, which are commonly grown in Northern Spain. A recipe from Martha Stewart Living combines that distinctive taste with seafood by stuffing the peppers with shrimp salad.
Season large, skinned and deveined shrimp with salt and pepper. Saute in extra-virgin olive oil over medium-high heat. After three minutes, the shellfish should be cooked through. Chop into small pieces and place in a bowl.
Bring a pot of water to a boil and cook a large plum tomato until its skin is loose. Stop cooking by transferring to an ice bath. Then, remove the skin and seeds before chopping.
Heat more oil and saute onion and garlic for about five minutes, or until they're soft. Stir the pieces of tomato into the pan and cook another two minutes. Remove the pan from heat and pour in two tablespoons of a medium-dry sherry before returning to heat another minute.
Move the tomato mixture into the bowl with the shrimp, stirring and seasoning with salt and pepper. After the mixture cools, add mayonnaise. Stuff the peppers with the shrimp salad and it's ready to serve.
Serve a classic tortilla espanola
Tortilla espanola, or a Spanish omelet, is one of its namesake country's most famed culinary exports. The New York Times gave directions that will get this tapas must-have ready in about an hour.
In a bowl, combine 2.5 pounds of russet potatoes, peeled and sliced into thin pieces, with diced onion, a chopped green bell pepper, minced garlic and salt. Pour four cups of extra-virgin olive oil into a deep skillet and set on high heat. Once the oil is sufficiently warm, add the potato mixture.
Simmer the potatoes, stirring occasionally, for 20 to 25 minutes. When they get soft, drain and allow to cool. In the meantime, beat 10 large eggs in a large bowl, and then add the potatoes.
Place the skillet on medium-high heat. Pour in the potato mixture and spread it out, lowering the heat to medium. Pull the edges toward the center with a spatula as the eggs cook for four minutes.
Oil a baking sheet and use it to cover the skillet. Flip the tortilla onto the sheet before placing the pan back on the heat. Return the now-inverted tortilla to the skillet to cook another three minutes.
For a simple snack, bring together manchego and apples
Part of the fun of tapas is that you can break up your signature items with easy but delicious snacks. Rachel Ray recommended pairing manchego-style cheese with rosemary and honeycrisp apples.
Cut the rind off the cheese and slice it thinly. Cover apple slices with lemon juice. Then set pieces of cheese on the fruit, topping with rosemary and chives. Finish by adding a drizzle of honey and chopped, roasted Marcona almonds.