&nbsp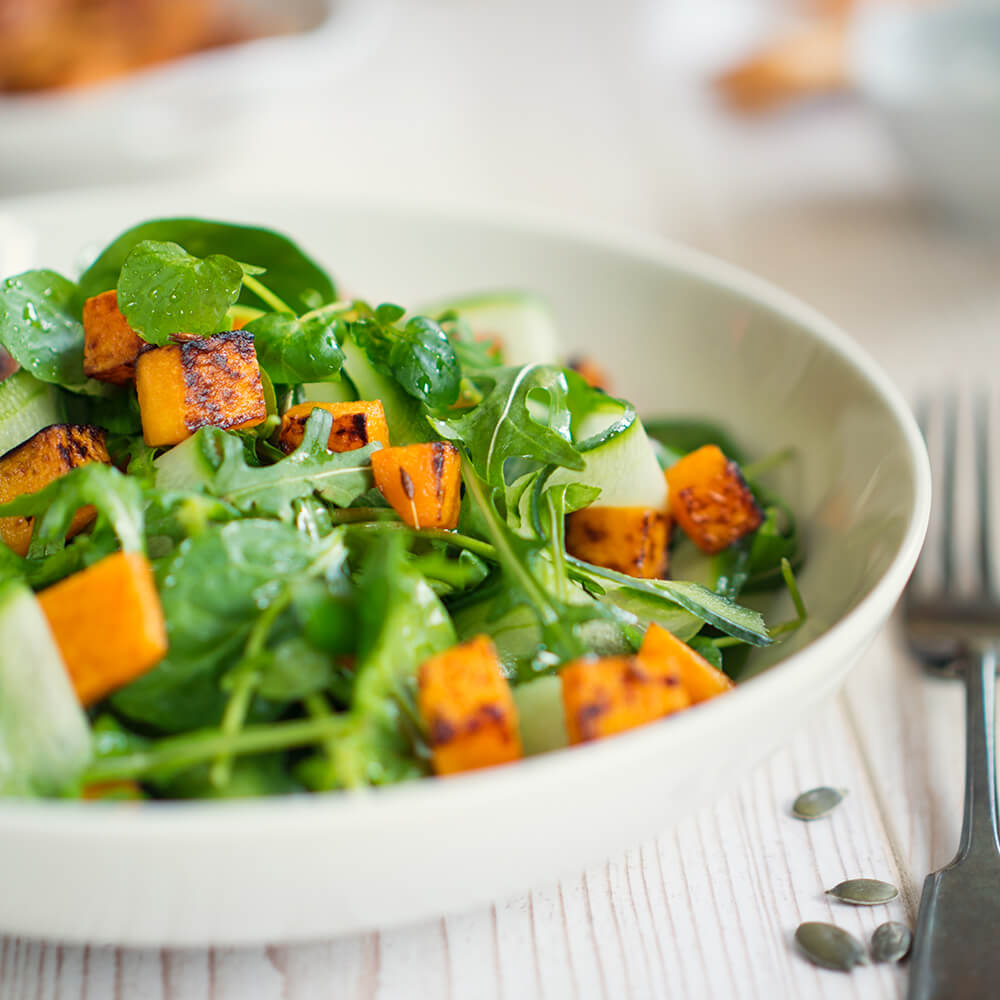 4 ways to use butternut squash
Wintertime doesn't have to be cold and dreary, especially when there are hearty and colorful vegetables in season. As any online culinary student knows, or soon will learn, winter vegetables can be some of the most delicious and provide a warm sweetness to any dish.
Butternut squash is one such winter vegetable, with bright orange flesh to bring color to your plate and a rich, velvety taste that's sure to please. This versatile gourd can be incorporated into any meal on your menu. Here's how:
Breakfast: Butternut squash porridge
Butternut squash's versatility should not be underestimated; here, a paleo-friendly porridge recipe could convince any squash skeptic:
Cut the butternut squash length-wise and bake them face-up in a pan with about a quarter-inch of water at 350 degrees Fahrenheit for about an hour. The squash should be very soft at this point. Let the squash cool, then mash until smooth. Stir in coconut milk and cinnamon, then top with walnuts.
Lunch: Butternut squash soup
On a cold winter day, a hearty, warm soup can be the perfect remedy. Pair this slightly spicy Southwest butternut squash soup recipe from The Kitchn with a salad or sandwich:
First, prepare the squash. Cut off both ends, peel and cut lengthwise. Scoop out the seeds, then begin cutting the squash into 1.5-inch cubes.
Next, warm oil in a stock pot or Dutch oven. Saute chopped onions until they're soft and starting to brown, them add diced and seedless red bell and jalapeno peppers. Saute until these are soft, too. Finally, add garlic, salt, cumin, coriander, oregano, paprika (smoked or regular), cinnamon and cayenne pepper.
Then, add the cubed squash and vegetable stock. Bring the soup to a boil, then let simmer on medium-low heat until the squash is soft. Once the squash is fully cooked, use a blender to puree the soup.
Dinner: Caramelized butternut squash
This caramelized butternut squash dish from Ina Garten is the perfect complement to any main course.
Begin by preparing the squash the same way described in the soup recipe, ending with 1.5-inch cubes. Arrange the cubes on a baking sheet, then drizzle with melted butter and toss on brown sugar, salt and pepper. Mix the ingredients around to ensure all cubes are coated. Bake at 400 degrees Fahrenheit for 45 to 55 minutes, or until the cubes are soft. Periodically check the squash and turn it over so it's evenly roasted on all sides.
Dessert: Butternut squash tart with pecan crust
Butternut squash is a very sweet vegetable, a trait that makes it perfect for dessert. This vegan butternut squash tart with a pecan crust recipe from the Natural Gourmet Institute brings out the flavor in this fall-forward treat:
Begin with the crust. Grind pecans with flour, maple sugar, flour, baking powder and salt together in a food processor. Add oil and maple syrup to the dry ingredients. Pulse the food processor until the ingredients begin to form a dough. Press the dough into tart pans, refrigerate for 15 to 20 minutes, then bake at 350 degrees Fahrenheit for 15 to 20 minutes.
For the filling, prepare the squash the same way you would for the porridge recipe above, ending by mashing the squash until smooth. Measure out four cups of mash and add to the food processor with maple syrup, cornstarch dissolved in soy milk, soy milk, coconut oil, cinnamon, ginger, cloves, vanilla extract and orange extract. Process until well blended.
In a saucepan over medium heat, boil agar flakes in water until dissolved. Add this to the food processor and blend. Then, pour the filling into the tart crusts. Loosely cover with foil, then bake at 350 degrees for 30 minutes. Remove the foil and bake for another 10 minutes.