&nbsp
Examples of Dessert Presentations
We've said it before and we'll say it again. No matter how tasty your sweet treat is, if you want to make it as a pastry chef presentation plays a huge part in what you do. For those that may not be in the culinary arts profession, knowing how to plate desserts can still come in major handy. But with so many different options to choose from, it can often be overwhelming and difficult to know exactly how to present one from the other. There's definitely a huge difference between a colorful fruit tart and a giant, three-layer piece of chocolate cake. Sauces, garnishes and other lovely extras all play a major part in determining what exactly the best way to approach it is. But never fear, our baking and pastry arts expert is here with multiple examples of what you can do to make sure your presentation is just as pastry perfect as the recipe.
In this video tutorial with Chef Susie, she shows you how your presentation can look with a few guidelines and some good pointers. Watch as she elegantly and skillfully turns that ordinary piece of cake into an edible work of art.
Culinary & Pastry Career Survey
Culinary & Pastry Career Survey
What's your ideal culinary career? Answer 20 simple questions and see if your dream career gets revealed to you.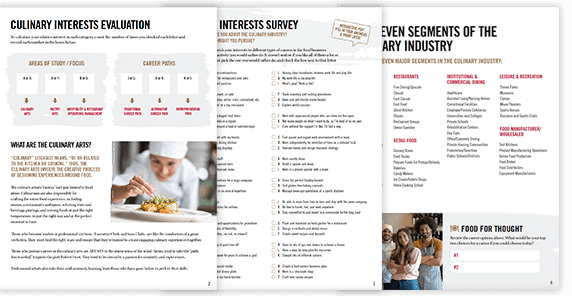 We've compiled of all of the essential questions into one handy guide: Career options, description of skill requirements, and more!
YES, I want the guide!