Boeuf Bourguignon Recipe
In celebration of Bastille Day on July 14th, Chef Mark Dowling demonstrates how to make Julia Child's Boeuf Bourguignon step-by-step. Below is a list of topics that Chef Mark covers in detail:
Which shanks to use
Marinated or Spice rub
Braise vs. Stew
Appropriate wine: SIMI Sonoma Country Chardonnay
Beouf Bourguignon Recipe – (French Style Beef Stew with Burgundy Wine)
Ingredients:
3 lbs. Beef Chuck, trimmed of fat, cut into 2-3 inch cubes
2 cups Beef Stock
2 tbsp olive oil
1 tbsp Tomato paste
1 tsp dried thyme
2 bay leaves
1 cloves of garlic minced
¾ lb. of Pearl onions
1 lb. White Mushrooms
½ tsp sea salt
½ tsp freshly ground black pepper
½ stick of sweet butter
1 oz. Flour
Method:
Dry the beef well and on med-high heat sear on both sides in hot oil until brown, don't crowd the pan. Move meat frequently to avoid sticking/burning.
Remove meat from pan and place in an oven proof dish with lid.
Then deglaze pan with 3 cups of pinot noir, allow to  simmer, scrape up  the fond, and then add 2 cups beef stock, allow to simmer add crushed  garlic, tomato paste and spices, and pour over meat, add salt. Cover and place in oven for 3 to 3-1/2 hours at 325oF.
 Place pearl onions into simmering water for 10 seconds, remove allow to cool, and then remove core and skins, make a small incision into the stem end. To cook onions place then in a pan/pot large enough to handle them in one layer, then  add water half way up and 1-2 tbsp. butter and ¼ tsp. salt. Allow to simmer 25 minutes or until tender. Reserve.
Wash mushrooms and trim stem end off if dirty. Remove stem and cut on bias, cut mushroom cap into quarters or thirds if large.  Be sure mushrooms are absolutely dry before sautéing.
To cook mushrooms, heat 1-2 tbs butter n larger sauté pan until it foams, then add mushrooms and sauté until no liquid remains and they are lightly browned. Reserve.
When stew is done, checking for tenderness, remove lid and cool for a few moments, then straining beef from the liquid into a sauce pan. Place beef back into its original cooking dish.
Bring liquid to a simmer and thicken with a Beurre Manie as demonstrated.  For this recipe about 1 Tbsp butter and 3Tbps flour. Allow to  simmer as whisked in, adjust seasoning with salt and pepper.
 Add onions, mushrooms to the thickened sauce, simmer, then pour over all the beef in dish.
Heat all again and serve with boiled parsley potatoes, green salad, a good pinot noir and  French bread.
Culinary & Pastry Career Survey
Culinary & Pastry Career Survey
What's your ideal culinary career? Answer 20 simple questions and see if your dream career gets revealed to you.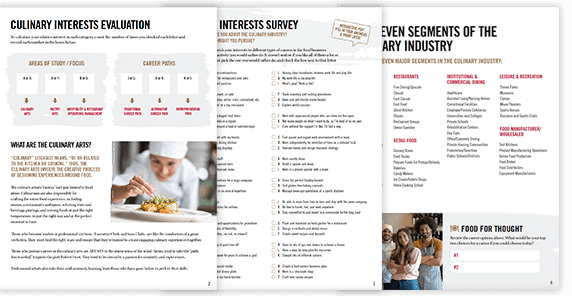 We've compiled of all of the essential questions into one handy guide: Career options, description of skill requirements, and more!
YES, I want the guide!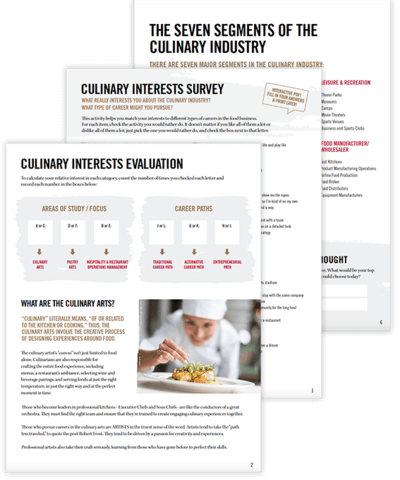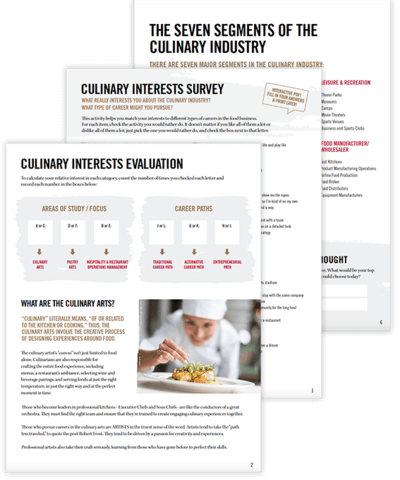 Please be sure to check out our recent demos!
Osso Buco Milanese Recipe
Frangelico Chocolate Truffle Recipe
To learn more about our programs, contact us at (877) 452-5489 or [email protected].