&nbsp
6 tips for healthy eating at a Mexican restaurant
Americans sure do love their Mexican food. In fact, it is the third most popular menu type in the country, according to data from CHD Expert Group. However, you probably learned in culinary school that Mexican food is not known for being healthy. If you prepare ahead and make different choices, you can eat this cuisine without ruining your diet. Here are six tips for heating healthily at a Mexican restaurant:
Say no to the chips
Chips and salsa are a staple of any Mexican restaurant, but they are not exactly low in calories. If your server brings the bowl of chips over to your table, it is easy to consume hundreds of calories before you even get your meal. Do yourself a favor and ask your waiter to leave the chips in the kitchen.
Order ceviche as an appetizer
If you and the other people at your table want to order an appetizer, consider ceviche. This seafood dish consists of fresh fish, citrus juices and chili peppers and is low in calories.
Choose corn tortillas
If you are in the mood for tacos, stick with corn tortillas. As stated in Prevention.com, corn tortillas have fewer calories and fat grams than flour tortillas. Corn tortillas also lower in sodium and sugar.
Do not order rice and refried beans
Rice and refried beans are common sides ordered at Mexican restaurants, but they are high in calories and fat content. Grilled vegetables are a better option because they are lower in calories and high in fiber. If you want to add some flavor to the vegetables, just pour some salsa over them. If you still want to order beans, opt for black beans.
Opt for grilled foods
A great way to eat healthily at a Mexican restaurant is to choose grilled foods. Instead of ordering a chimichanga or taquito, opt for steak, chicken or shrimp fajitas. Fajitas are much healthier than fried items but are just as filling; they taste even better when flavored with peppers and onions.
Be careful with margaritas
Margaritas might taste delicious, but they are loaded with calories and sugar. If you must order an alcoholic beverage, choose a skinny margarita. According to Calorie Count, one skinny margarita has just 90 calories.
If you follow these tips, you can eat at a Mexican restaurant without feeling guilty.
Culinary & Pastry Career Survey
Culinary & Pastry Career Survey
What's your ideal culinary career? Answer 20 simple questions and see if your dream career gets revealed to you.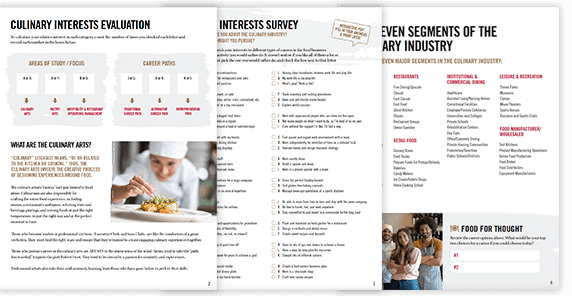 We've compiled of all of the essential questions into one handy guide: Career options, description of skill requirements, and more!
YES, I want the guide!