&nbsp
Interesting Ways To Serve Ice Cream
Is there anyone out there who doesn't love a good ice cream cone? There is just nothing better than those perfect cones piled just high enough to not melt down your hand on a warm summer evening. While there is no reason to fix something that isn't broken, we can still enhance something that's already fantastic. Consider pushing those cones off to the side and don't even think about scooping that ice cream into a bowl when you have all of these other interesting ways to serve your favorite frozen treat.
Make ice cream sandwiches
The possibilities here are endless. Sandwich some ice cream between your two of your favorite cookies to start. But why stop there? How about two pieces of fudge, pound cake or graham crackers? Consider melting some marshmallow and making treats out of cereal or your other favorite sweet snack foods too.
Serve it for "breakfast"
We use the term breakfast loosely. It's a little-known fact that ice cream pairs very well with breakfast items like waffles, French toast and pancakes. This is especially true if you top the dish with some delicious berry compote or warm maple syrup. On second thought, feel free to serve these for dessert as well.
Make it a shake
Sometimes you have to eat your ice cream on the go, and a cone isn't always conducive to that. A shake, however, will make it just as easy as sipping your morning coffee on your commute. Simply mix ice cream and some milk in the blender  and you have yourself a quick and simple shake. Feel free to throw in any other fun add-ins too, like crushed candy or sprinkles.
Make ice cream tacos
Remember those ice cream tacos you used to get from the ice cream truck as a kid? Well, you can make them yourself, and they actually taste even better. Melt some butter, mix in cinnamon sugar and brush them on some tortillas. Fold them over and bake them in the oven so they get crispy. Stuff these crunchy shells with ice cream, sprinkles, chocolate sauce and anything else you love on your ice cream.
Serve it with soda
Root beer floats and Boston coolers are classic combinations of ice cream and soda, but they're far from the only options. Get creative with your ice cream/soda combinations. Chocolate covered cherries are delicious, so why not cherry soda with chocolate ice cream? How about strawberry ice cream with cream soda for a strawberry cream treat?
Combine desserts
We all know that serving pie a la mode means serving it with ice cream, but you can make an ice cream pie too. Simply layer your favorite frozen treats in a pie crust, and spread whipped cream on top. Stick it in the freezer so the whipped topping can get firm, and serve your delicious pie with sides of hot fudge or caramel.
Culinary & Pastry Career Survey
Culinary & Pastry Career Survey
What's your ideal culinary career? Answer 20 simple questions and see if your dream career gets revealed to you.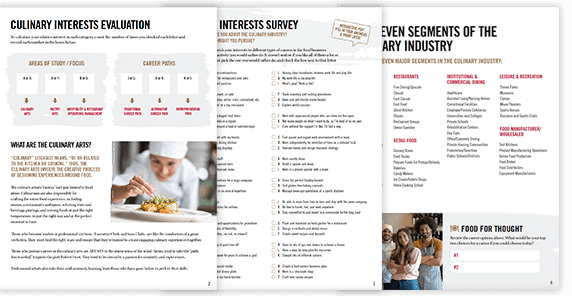 We've compiled of all of the essential questions into one handy guide: Career options, description of skill requirements, and more!
YES, I want the guide!