How To Make Escoffier's Legendary Peach Melba Recipe
As Auguste Escoffier's signature dessert, Peach Melba is as legendary a name as his own. And like Escoffier's philosophy that simple is best—this dessert plays off of fresh and bright ingredients that don't get mixed up in complicated steps and additional ingredients. Peaches poached in a simple syrup until soft and sweet are the stars of this dish but the vanilla ice cream and homemade raspberry sauce round them out beautifully. If you're looking for a simple and refreshing summer dessert, Peach Melba is exactly what you need. You can even sub out the ice cream in place for a frozen yogurt or dairy-free variation depending on your personal preference.
Break out your food processor and follow along in this cooking class as we show you how to make Escoffier's legendary dessert, Peach Melba. Initially made for the famous Australian opera singer, this dish more than lives up to its name.
PEACH MELBA RECIPE
1 ½ cups water
1 ¾ cups sugar
2 tbsp lemon juice
½ tsp vanilla extract
4 peaches
1 pint vanilla ice cream
Raspberry Sauce
1 ½ cups fresh raspberries
2 tbsp confectioner's sugar
½ tbsp lemon juice
1. Combine water, sugar, lemon juice and vanilla extract into a large saucepan and heat on low until sugar has dissolved. Increase heat to medium and bring to a boil. Let cook at boiling for about 3 minutes and then turn back down to a simmer.
2. Cut peaches in half. Place in the syrup and let poach for about 2 to 3 minutes per side. Test doneness with a knife. When finished poaching, remove to a plate.
3. After the peaches have cooled, peel off the skin and remove the stones. Set aside.
4. For the raspberry sauce—combine all ingredients in a food processor or blender and puree until very smooth. Strain through a colander and into a container.
5. Assemble the dish by putting 2 peach halves in a bowl along with a scoop of the ice cream. Spoon the raspberry sauce generously on top and serve immediately.
Culinary & Pastry Career Survey
Culinary & Pastry Career Survey
What's your ideal culinary career? Answer 20 simple questions and see if your dream career gets revealed to you.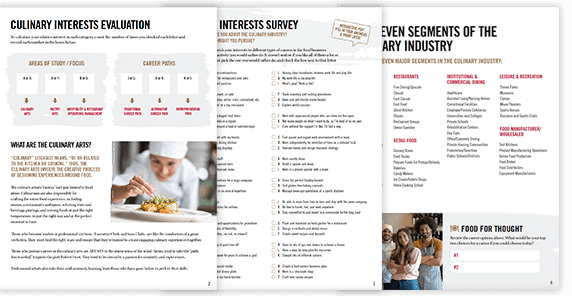 We've compiled of all of the essential questions into one handy guide: Career options, description of skill requirements, and more!
YES, I want the guide!