&nbsp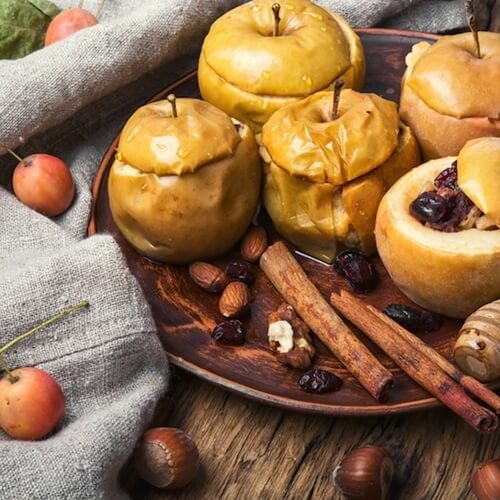 Cooking Up Ideas For Delicious Dessert Mashups
Fall is the perfect time to embrace your sweet tooth. With Halloween around the corner, baking and pastry arts enthusiasts should seize the opportunity to get creative by combining classic flavors into amazing treats. By mashing up great tastes, you can create desserts that guests will remember all year.
Enjoy the seasonal flavor of baked autumn apples
"Dig into the season with the sweet and tart taste of apples."
Dig into the season by bringing the sweet and tart taste of apples together with other comforting ingredients. The Spruce provided directions that call for six of the fruits with their cores removed. Peel off a one-inch section near the middle of each apple and set them all in a baking dish.
In a bowl, mix half a cup of raisins with brown sugar, cinnamon and nutmeg. Place the filling in the center of the apples, adding a dot of butter. Pour enough water into the dish to cover the bottom.
Place the apples in an oven set to 350 degrees Fahrenheit. Baste occasionally as the apples bake for 45 minutes to an hour, or until they become tender. Serve with whipped cream.
Bring color to the table with funfetti cookies
Adding the taste of funfetti to a traditional sugar cookie results in an irresistible treat. Chelsea's Messy Apron suggested a recipe that will ensure a colorful, soft and delicious batch. Start by melting butter in a large bowl and whisking in granulated sugar. Then, mix in two eggs, vanilla extract, and almond extract, whisking until smooth.
Combine cornstarch, baking powder, baking soda, salt and flour in a separate bowl. Stir the dry ingredients into the wet ones before adding sprinkles. Refrigerate the dough for half an hour.
Roll the dough into balls and place on a baking sheet lined with parchment paper. Bake in an oven set to 350 degrees for up to 11 minutes. Allow time to cool before serving.
Load up chocolate cupcakes with raspberry
Raspberry and chocolate is a classic combination, and Everyday Annie offered a raspberry truffle cupcake recipe that captures the full possibilities of this pairing. Prepare by heating the oven to 350 degrees and placing liners in cupcake pans. Then, sift cocoa powder, cake flour, baking soda, baking powder and salt together in a bowl.
Use a stand mixer at medium-high speed to combine butter and sugar for five minutes or until you have light, fluffy cream. Add two eggs, mixing each one in separately. Pour in half the dry ingredients, mixing at low speed.
Combine coffee with milk and stir into the mixing bowl. Then, throw in the rest of the dry ingredients and mix. Once all ingredients are incorporated, pour the batter into the cupcake pans.
Bake for 20 minutes and allow the cupcakes to cool before you make the raspberry filling. Heat up some raspberry jam and move into a pastry bag. Pipe a small amount of jam into each cupcake.
Create the truffles by rinsing fresh raspberries and setting them on a paper towel-lined baking sheet. Set some of the jam in a bowl with chopped semisweet chocolate. Heat heavy cream to a boil and pour it into the bowl. Wait for three minutes before whisking until the mixture is smooth, forming a ganache.
Put the ganache into a pastry bag and pipe into the raspberries. Place in the refrigerator for 15 minutes, so the ganache has time to set.
Finally, make a frosting by using the stand mixer with a paddle attachment to combine jam with butter. After about two minutes, sift in powdered sugar and mix again. Assemble the cupcakes by frosting them and topping each with a truffle.