&nbsp
Unique Uses For Your Fruits and Vegetables
When you get tired of cooking with fruits and vegetables in the same dishes, try spicing up your routine with unique new recipes and creations.
Vegetable ideas
Use your vegetables to make new creations that are not only healthy, but help you deviate from that boring road you typically go down.
Whatever you used to do with cauliflower, forget about it. The next time you're in the mood for this tasty vegetable, try roasting it. Just throw in some vegetable oil, a head of cauliflower, Greek yogurt, cumin, chili, garlic and curry powder, and put it in a 400-degree oven for about 40 minutes.
Pizza lovers rejoice! You can make a low-carb pizza crust using grated cauliflower, a garlic clove, an egg, basil and oregano.
Instead of using carb-filled buns, try using your vegetables as buns instead. Zucchini will work on mini chicken, beef or turkey burgers.
Cauliflower can serve as a rice substitute when you're making "fried rice."
Add some zucchini ribbons to your fettuccine to bulk up your pasta dish. The similar shape and consistency will complement the pasta.
Use vegetables as a stand-in for grains for creations like tabbouleh. Instead, use cauliflower, parsley, chopped tomatoes, lemon juice, a sprinkle of salt and olive oil.
Pastry Arts and Culinary Arts School
Planner & Checklist
Pastry Arts and Culinary Arts School Planner & Checklist
Thinking about baking & pastry arts school or culinary school?
Get the planner!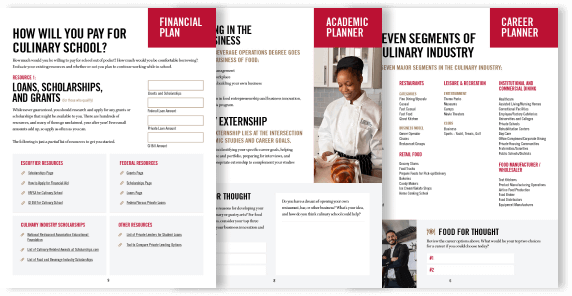 We've compiled a checklist of all of the essential questions into one handy workbook: Career options, academic plans, financing your education, and more.
YES, I want the workbook!
Uses for fruit
Sometimes, there's nothing more satisfying that biting down on a juicy strawberry or raspberry. When you're in search of new fruit creations to help satisfy your sweet tooth in a more healthy way, turn to these ideas:
Everyone loves chocolate-covered strawberries, but sometimes it might feel like the resulting mess isn't quite worth it. The next time you make them, put the chocolate in an ice cub tray and then dip the strawberries, allowing it to harden before eating.
For a quick and easy snack, stuff some semisweet and white chocolate chips into raspberries. This will give you the chocolate-covered taste you're craving.
You can turn a watermelon into a cake by topping it with other fruits such as kiwi and blackberries. For icing, use coconut milk, vanilla and honey.
Turn those bananas sitting on the shelf into ice cream using a food processor or blender. You can use one, two or three ingredients, including just a frozen banana  – all come with a delicious ending.
Make thin pancakes and use them as a shell for fruit tacos. Then just stuff with your favorite fruits for the ultimate snack time creation.
You can make fruit sushi using your favorites and wrapping them in a thin slice of cucumber. It's the perfect way to get a taste of an assortment of fruits.