&nbsp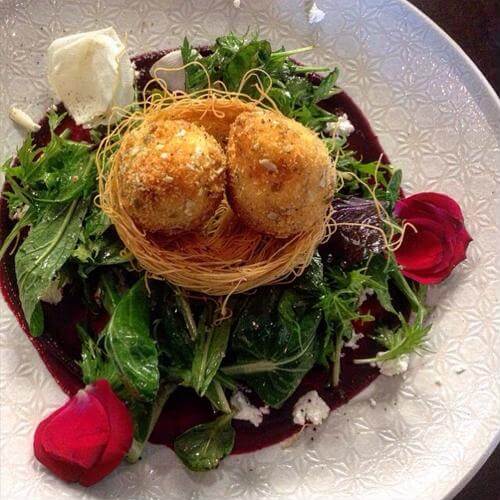 Pastry nests: The newest fave brunch item
Old favorites like eggs Benedict and waffles will always be with us, but brunch menus continue to explore fresh territory. For many chefs, the late morning meal has become an opportunity to show off their creativity and find inspiration in different cuisines. If you're interested in the baking and pastry arts, you may have noticed the arrival of a visually appealing and tasty dish on many spring brunch menus: the pastry nest.
While pastry nests may be new to many American chefs and diners, they are inspired by long traditions in Mediterranean cooking. One of the biggest advantages of these eye-catching items is that they're endlessly customizable. When you have the basics down, you can incorporate a wide range of ingredients to put your personal stamp on this new brunch favorite.
Feathering the nest
"The foundation of a pastry nest is phyllo."
The foundation of a pastry nest is phyllo, an unleavened dough commonly used to make the Turkish dessert baklava and the Greek spinach pie spanakopita, among other applications. Genius Kitchen provided a recipe for making your own phyllo that calls for flour, salt, olive oil and water. However, you can keep preparation easier by using the frozen phyllo widely available at grocery stores.
To add to the dish's nest-like appearance and crunch, many recipes suggest using kataifi, a type of shredded phyllo available frozen at many stores with a selection of Mediterranean foods. As the Pittsburgh Post-Gazette explained, you should allow time for the dough to thaw in the refrigerator before use. Lay out paper on your work area when you open the package to make cleaning up all the little pieces of phyllo easier.
Take the kataifi out of its package in small amounts, loosening them by fluffing them up and carefully pulling on the ends. Keep the dough flexible by covering it with a damp towel.
Get started with a simple nest
When you're making your first pastry nest, you may want to keep things easy. Sara Moulton provided the Associated Press with a straightforward method to bring together phyllo, eggs and other tasty ingredients in a festive dish.
Set a sheet of phyllo on a work surface brushed with extra-virgin olive oil, adding more oil to the dough. Pull in the edges to create a nest, keeping the center flat. Move onto a rimmed baking sheet lined with parchment paper, and repeat with three more pieces of phyllo.
Position a thin piece of prosciutto in the center of each nest, topping with grated mozzarella and pesto. Create an indentation in the middle of the cheese and add an egg.
Bake in the bottom part of the oven at 400 degrees Fahrenheit. After approximately eight minutes, the whites should set and the phyllo should be golden and crisp. Allow three minutes at room temperature and serve.
Take flight with a more adventurous approach
Once you're comfortable working with phyllo and creating your nests, you might want to try some exciting combinations of taste and texture. The Telegraph featured directions for a version that includes kataifi, figs and cardamom.
After loosening the pastry, place in a bowl with sugar and melted butter, carefully mixing to coat. Divide into tartlet pans, flattening the centers, and bake at 375 degrees for 15 minutes.
Prepare a filling by lightly whipping a combination of heavy cream, lemon zest, ground cardamom and powdered sugar before folding in Greek yogurt.
To make the topping, melt butter in a pan, adding light brown sugar. Cut figs in half and place in the pan with the cut sides down. Cook on high for two minutes. Assemble the nests, topping them off with chopped pistachios.