How To Make Demi Glace
Demi glace is a thick, rich brown sauce bursting with flavor. The increased viscosity and pronounced taste is accomplished through cooking down veal bones opposed to the usual beef or chicken. The veal bones contain more collagen than a full grown cow's would and when cooked down for hours, the collagen transforms into gelatin, making the stock thicker and richer. To accomplish an even more in depth and darker sauce, many chefs recommend roasting the bones and vegetables together before making the stock. We definitely recommend you try it at least once! Most demi glace sauces are made by diluting Escoffier's Espagnole sauce with some beef and/or chicken broth until it's been reduced by half. The results are just as delicious and a lot less time consuming. It makes for a deliciously complex addition to stews, soups and other sauces as well. Like any sort of reduction, it obviously takes time and a bit of effort. But never fear, that time spent will greatly be made-up with time saved for many future dinners.
Learn to cook online with this amazing demi glace recipe. This exquisite sauce of classic French cuisine is a sure way to enhance and bring life to any meal.
Culinary & Pastry Career Survey
Culinary & Pastry Career Survey
What's your ideal culinary career? Answer 20 simple questions and see if your dream career gets revealed to you.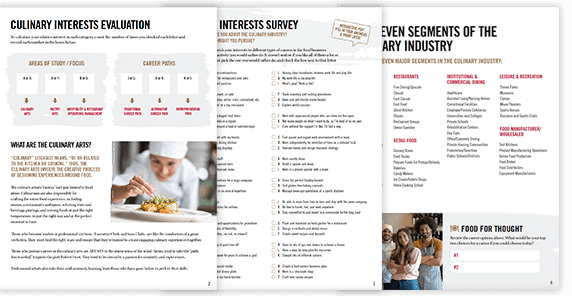 We've compiled of all of the essential questions into one handy guide: Career options, description of skill requirements, and more!
YES, I want the guide!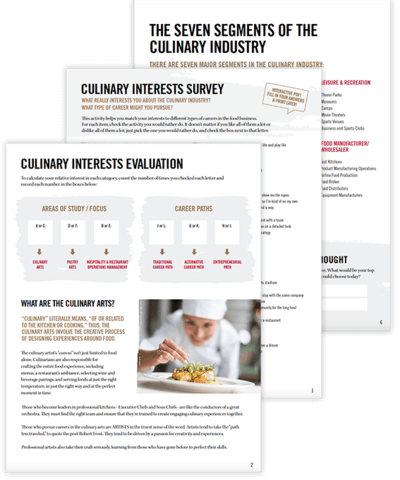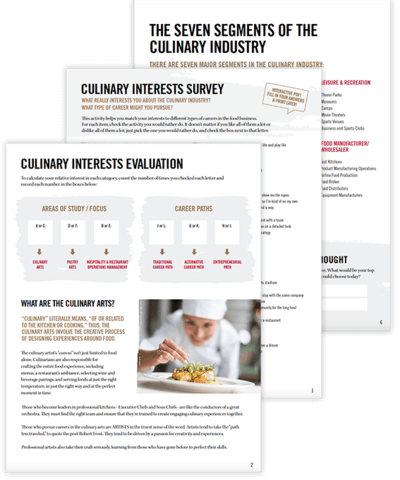 Brown Stock:
50 lbs veal or beef bones
8 lbs mirepoix
12 oz tomato paste
Satchet
6 bay leaves
1.4 tsp dried thyme
1.5 tsp peppercorn
2 heads garlic cloves (crushed)
2 sprigs parsley stems
Place the bones in a roasting pan, one layer deep, and brown in a 375 degree oven. Turn the bones occasionally to brown them evenly.
Remove the bones and place them in a stockpot. Pour off the fat from the roasting pan and reserve it.
Deglaze the roasting pan with part of the cold water.
Add a portion of the reserved fat to the roasting pan and sauté the mirepoix until evenly browned. Add tomato paste and brown.
Add the satchet to the stock and continue to simmer for 6-8 hours, skimming as necessary
Strain, cool and refrigerate.


---
Espagnole Sauce
8 fl oz clarified butter
8 oz flour
5 qt brown stock
4 oz tomato puree
Salt and pepper to taste
Satchet
1 bay leaf
½ tsp dry thyme
¼ tsp crushed peppercorn
Parsley stems
Prepare a brown roux with flour and butter. Cool.
Bring stock to boil, incorporate roux.
Add tomato puree and sachet. Simmer, skimming occasionally for 45 minutes.
Adjust consistency, season and chinois.
Cool or hot hold for service. Melted butter may be added to top of sauce to prevent "skin" from forming.


---
Demi Glace:
Brown stock
Brown sauce (Espagnole sauce)
Combine both the brown stock and brown sauce in a pan.
Simmer until reduced by half.
Strain and cool.